I recently had the pleasure to go to a concert of Antony and The Johnsons at Teatro Real in Madrid, and it was such an experience that I´d like to briefly tell you about it.
The show "Swanlights" was originally commissioned from MOMA to Antony and The Johnsons to be performed at Radio City Music Hall in New York in 2012. Thanks to the Teatro Real, people from Madrid could also enjoy it in a four nights sold out show that ended with the audience standing and giving Antony and the orchestra a full ovation.

In the beginning there is a beautiful performance by Johanna Constantine as a bird opening the show. After she leaves, the stage is on dark but you can listen to the next song "The Rapture", leaving the people confused and overwhelmed by the power of his voice.
Then the lights appear slowly in a glass-like stage from another planet as he sings "Another world" from the album The Crying Light:
I need another place
Will there be peace
I need another world
This one's nearly gone
Still have to many dreams
Never seen the light
I need another world
A place where I can go
The non-stop show will continue performing a selection of songs from his four albums plus an exquisite cover of "Crazy in love" by Beyonce.
At a certain moment there is a curtain at the back of the stage that rises and leaves in full sight the Teatro Real orchestra, conductor Rob Mose and pianist  Gael Rakotondrabe.
"Christina's farm", "For today I am a boy", "Another day", "Cripple and the starfish", "I fell in love with a dead boy", "Swanlights", "Cut the world" and "You are my sister" are just some of the songs performed for an hour and a half, still leaving the audience ready for more.
Absolutely stunning concert. Everyone is happy and ready to have a stiff drink afterwards.
Here is a 5 minutes video of Antony Hegarty in conversation with MoMA PS1 Director Klaus Biesenbach about the inception of the show and the social/political activism that goes hand in hand with his other-worldly music.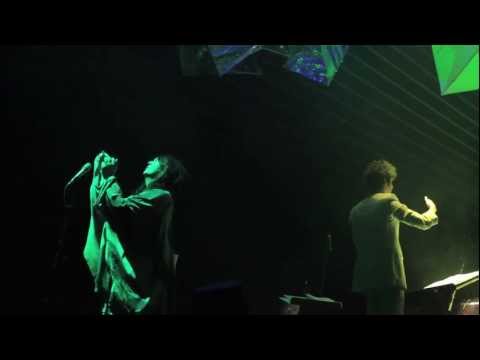 Two years ago the Teatro Real also showed Antony Hegarty performing with Marina Abramovic, "The Life and Death of Marina Abramovic", featuring scenes from her Serbian childhood to her work as a performance artist.
"Cut the world" at Teatro Real